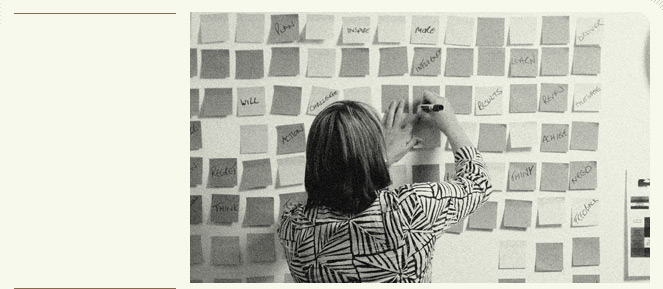 Who U&I are
---
At U&I we know that one size does not fit all. Whatever it is your business needs, the U&I approach will adapt to fit, blending approaches, solutions and techniques to suit. So don't think of this list as definitive – it's just a starting place for our conversation about how we blend what we do best to help you do better.
At U&I we don't hire in coaching and training deliverers - our work isn't off the peg and neither are we! When you work with us, it really is just us that you'll be working with. Here's our team:
Kim Stafford – Director
Kim has been working as a management coach, trainer and facilitator for 15 years, setting up her own business in 2000 specialising in service quality management, management development and coaching. Since Kim did her Masters degree in Total Quality Management back in 1996 she has developed a distinctive approach that ensures any learning and development connects to business improvement, so that her clients' investment buys real results, not just the delivery of training.
Kim is down to earth in her approach and is as happy working in the boardroom as she is in a cow shed (see the case study for DairyCo). Having recently won two National Training Awards for designing and delivering training and coaching that has saved clients thousands of pounds, Kim is proud of what U&I stands for but more importantly, is proud of the difference she has made with her clients.
T – 07767 763116
Phil Hill – Associate
Phil focuses on coaching, mentoring and offering business support to senior management teams. Phil is a qualified Executive Coach and Chartered Accountant and has worked as a coach since 2007.
Before joining U&I, Phil was a highly successful entrepreneur with experience and expertise in high growth service industries. For nine years as Managing Director of Sewell Moorhouse he led his financial recruitment business through rapid growth and success before selling his stake in the company. Prior to that, he spent six years as Finance Director of Gremlin Group during which time the company grew from being a small independent computer games business into a fully listed PLC.
Becoming a qualified coach has helped Phil appreciate the need to focus as much on people as on results. His clients enjoy working with him knowing that he has 'been there and done it' and he is able to relate to the problems they are facing. Phil gets a real buzz from making a difference and he firmly believes that his work should bring about change and measurable improvement. He brings a real sense of fun to coaching making sure clients enjoy and really value the time they spend with him.
T – 07931 385092
Andrena Backhouse
Andrena is an experienced and highly skilled learning and development professional with international experience and proven success in the design and implementation of organisational change and continuous improvement programmes.
Andrena has experience of coaching Directors and managers at every level and across a variety of industries, including engineering, retail, leisure, printing, manufacturing and chemicals.
Andrena has a reputation for bringing real energy to her training and coaching sessions, inspiring managers and their teams to make a real difference. As part of her professional toolkit, she is able to offer a wide range of tried and tested development tools and profiles including Myers Briggs (MBTI) Strength Deployment Inventory (SDI) and The Emotional Intelligence Quotient.
Email info@uandiwork.com
T – 07843 301013
Margaret McCabe
A highly competent and well respected Executive Coach, trainer, and facilitator. Margaret has over 10 years experience operating as a senior player in the Training and Development Field within multi-site Retail Companies. Her clients have benefited greatly from her 'coal face' experience. She is an accomplished strategist and effective implementer who balances commercial awareness and a strong results focus with sensitivity to people issues and an aptitude for influencing at all levels.
Margaret is also a master Neuro Linguistic Programming Practitioner and uses these techniques, when appropriate, to model what works in business to ensure personal growth matches business growth.
Margaret is well aware of the need to 'make things happen' for clients and consistently demonstrate a pragmatic approach, which aims to minimise bureaucracy and maximise the talent – a reason all her clients keep coming back for more.
Email info@uandiwork.com
T – 07889 641817